It appears that Germany has abandoned the lighthouse stamp design that has been the norm from 2004 to 2018. The stamp issued featuring Campen Lighthouse in 2019 was a new design as is the latest issue. On 2 July 2020 Deutsche Post issued a new lighthouse depicting Schleimünde Mole Lighthouse. This stamp is available in regular gummed sheets of ten as well as self-adhesive stamps sold in coils.
Schleimünde Mole L/H | 2 July 2020
Deutsche Post also released what they call a "plug-in card" in July 2020. This card includes 16 of the lighthouse stamps previously issued including the recent 2020 one. It also includes 15 ATM stamps. In addition to the included stamps, the card also features images of both Schleimünde Mole Lighthouse and Moritzburg Lighthouse.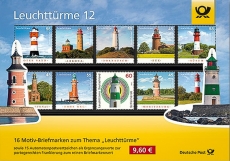 Various L/H | July 2020 | Plug-in card
Thanks to Jaap for information about these issues.
To see additional lighthouse stamps from Germany, click here.