Michael from Scotland recently called this stamp to my attention. It is one of a set of Frama labels (ATM stamps) that was issued by Gibraltar on 30 Sep 2017 recognizing Lodge Anniversaries. This stamp showing Europa Point L/H commemorates the 300th Aniversary of the United Grand Lodge of England.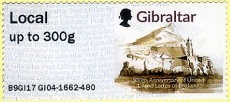 Europa Point L/H | 30 Sep 2017 | ATM label
Thanks, Michael!
See more lighthouse stamps from Gibraltar here.