The final four stamps in the 2019 France lighthouse stamp booklet are shown below: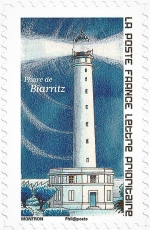 Biarritz L/H | 5 Aug 2019
Biarritz Lighthouse is located at the seaside resort of the same name on the Bay of Biscay just north of the Spanish border. The lighthouse was designed by Augustin-Jean Fresnel, the inventor of the Fresnel lens.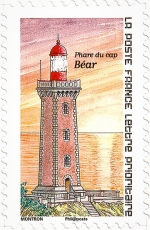 Cap Béar L/H | 5 Aug 2019
Cap Béar Lighthouse, built in 1905 is located on the Mediterranean coast just north of the Spanish border near Port-Vendres.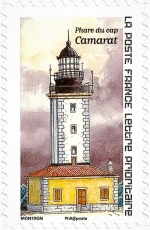 Cap Camarat L/H | 5 Aug 2019
Moving east along the Mediterranean coast between Toulon and Nice we find Cap Camarat Lighthouse. This lighthouse, built in 1837, is the second highest light in France.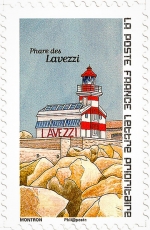 Lavezzi L/H | 5 Aug 2019
Leaving the French mainland and moving on to Corsica, Îles Lavessi (Lavezzi) Lighthouse is located on the Strait of Bonifacio between Corsica and Sardinia. It has been assisting mariners in these waters since 1874.
See more lighthouse stamps from France here.