On 7 April 2020 Isle of Man issued a set of six stamps celebrating the poetry of William Wordsworth. One of these stamps shows Conister Rock Lighthouse, also known as Tower of Refuge. The tower sits on an island near the entrance of Douglas Harbor. The tower was built to provide shelter for shipwrecked mariners on St. Mary's Island.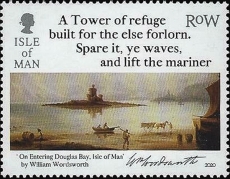 Conister Rock (Tower of Refuge) L/H | 7 Apr 2020
Thanks, again, to Jaap for bringing this stamp to our attention.
More lighthouse stamps from Isle of Man can be viewed here