On April 7th 2020 Jersey Post issued a set of six stamps in the EUROPA 2020 theme, "Ancient Postal Routes". Since Jersey is an island, mail ships were an important part of those ancient postal routes. The 54p stamp clearly shows La Corbière Lighhtouse.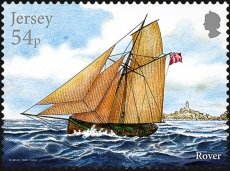 La Corbière L/H | 7 Apr 2020
Thanks to Jaap who again has brought this issue to our attention.
See more lighthouse stamps from Jersey here