On 13 July 2020 Turkey issued a souvenir sheet to commemorate the EUROMED theme "Traditional Gastronomy". Non of the tree stamps on the sheet features a lighthouse but there is a large image of Kiz Kulesi on the left side of the sheet.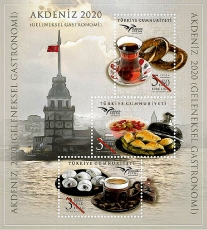 Kiz Kulesi L/H | 7/13/2020
Thanks to Jaap for the information about this issue.
To see more lighthouse stamps from Turkey, click here.