On 18 Nov 2021 Mexico released a set of 4 stamps to commemorate the 20th anniversary of the Chinese telecommunications company Huawei in Mexico. One of these stamps shows a stylized lighthouse that seems to be part of the Huawei logo.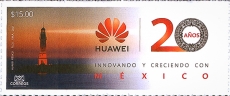 stylized L/H | 18 Nov 2021
Thanks to Jaap for information about this issue.
See more lighthouse stamps from Mexico here