Saint Pierre and Miquelon released a new lighthouse stamp on 13 Oct 2018. The stamp features Ile aux Marins Lighthouse in the foreground but we get a bonus as Pointe aux Canons Lighthouse is visible in the background.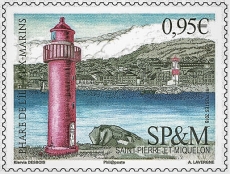 Ile aux Marins & Pointe aux Canons L/H | Sc ?, Mi ?, SG ?, Yt ?, WADP ? | 13 Oct 2018
Be sure to click here to see more than 100 lighthouse stamps from Saint Pierre and Miquelon.