On 6 May 2019 LaPoste issued a stamp featuring Augustin Fresnel the brilliant French engineer and physicist who contributed so much to the efficiency of the lighthouse. Though he only lived 39 years Fresnel accomplished much in the field of optics and while serving as commissioner of lighthouses he proposed that the lens of his design be used in lighthouses. Fresnel lenses are still found in many lighthouses worldwide nearly 200 years after his death.
Unknown L/H | Sc ?, Mi ?, SG ?, Yt ?, WADP ? | 6 May 2019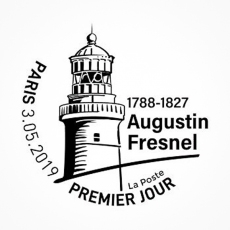 France 2019-05-03, Augustin Fresnel
See more lighthouse stamps from France here.