This post will detail the four lighthouse stamps that are included on the second pane of the August 2020 booklet from France.
La Vieille Lighthouse, built in 1887, is located on a rock about one mile west of another famous French lighthouse, Pointe du Raz Lighthouse. The light is close to the westernmost point of France. La Vieille is also featured on the cover of the booklet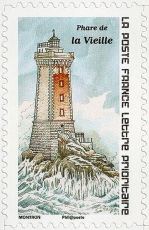 La Vieille L/H | 28 Aug 2020
Pointe de Penmarc'h Lighthouse, also know as Grand Phare d'Eckmühl was built in 1897 and is located at the northwestern limit of the Bay of Biscay. It is not far southeast of La Vieille Lighthouse, mentioned above.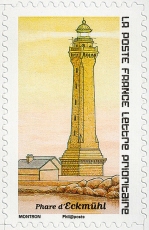 Pointe de Penmarc'h (Grand Phare d'Eckmühl) L/H | 28 Aug 2020
Four du Croisic Lighthouse, built in 1822 is distinctive in that it is painted with black and white spiral bands. This lighthouse is located at the approach to the Loire River and is said to be one of the first lighthouse built at sea.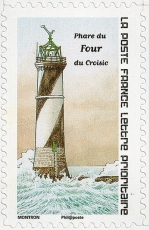 Plateau du Four (Four du Croisic) L/H | 28 Aug 2020
Cap Ferret Lighthouse is a relatively new one having been built in 1949. It is designed to replicate the original one located here and destroyed in 1944 during WWII.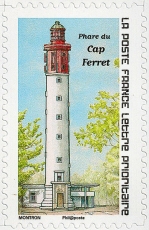 Cap Ferret L/H | 28 Aug 2020
See more lighthouse stamps from France here