This is the final post about the August 2020 lighthouse stamp booklet from France and details the stamps on the third pane of the booklet.
Cayeux-sur-Mer Lighthouse, like Cap Ferret Lightouse was destroyed during WWII. It was later rebuilt in 1951 and is located near the town of the same name on the north coast of France.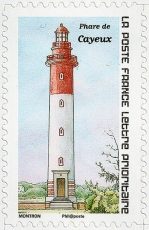 Cayeux-sur-Mer (Brighton) L/H | 28 Aug 2020
Le Grand Léjon Lighthouse built in 1881 is located on a rock off the coast of Brittany in northwestern France.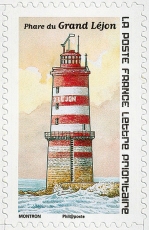 Le Grand Léjon L/H | 28 Aug 2020
Créac'h Lighthouse, housing one of the most powerful navigation lights in France was built in 1863 and is located on Île d'Ouessant near the westernmost point of France.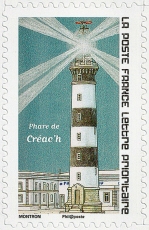 Créac'h L/H | 28 Aug 2020
The final stamp in this booklet features Saint-Mathieu Lighthouse built in 1835. It is located at the western approach to the major French port of Brest. It serves as both a landfall lighthouse as well as a rear range light.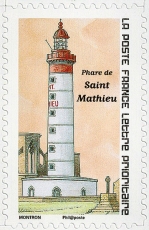 Saint-Mathieu L/H | 28 Aug 2020
We certainly hope that La Poste will continue with lighthouse theme stamps and produce another booklet in 2021.
See more lighthouse stamps from France here