On 1 September 2020 Estonia released a set of sixteen ATM or Frama labels with a tourism theme. There are four scenes with each one available in four different denominations. The denominations are 0.90 €, 1.75 €, 1.90 € and 4.85 €. One of the scenes features Tahkuna Lighthouse which is located at the entrance of the Gulf of Finland in western Estonia. Only the 0.90 € denomination label is shown here. Hopefully, we will get good images of the other three labels soon.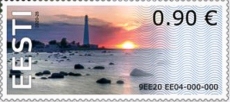 Tahkuna L/H | 9/1/2020
Thanks to Jaap for bringing this issue to our attention.
See more lighthouse stamps from Estona here