On 13 July 2020, Poste Maroc issued a pair of stamps with the theme of traditional gastronomy. One of these stamps depicts the Hassan II Mosque which is the former location of an aerobeacon.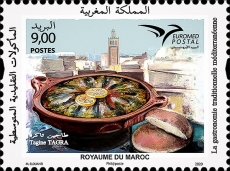 former site of aero beacon | 7/13/2020 | Hassan II Mosque
Thanks to Jaap for finding this new issue and bringing it to our attention.
See more Morocco lighthouse stamps here