On 30 September 2020 Russia issued a set of two stamps similar to those that were issued in previous years. These two stamps show lighthouses located in the eastern Crimea. It is interesting to note that the second stamp shown here, Meganom L/H, is also pictured in the set issued by the Ukraine on 15 September 2020.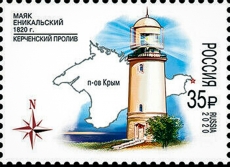 Yenikal'skiy L/H | 30 Sep 2020
Yenikal'skiy (Cape Fonar) Lighthouse, built in 1861, is located on the western shore of the Kerch Strait which lies between the Black Sea and the Sea of Azov.
Meganom L/H | 30 Sep 2020
Meganom Lighthouse was built in 1895 and is located on the southern coast of Crimea.
Thanks to Jaap for his research.
See more lighthouse stamps from Russia here