0n 7 April 2021 the Isle of Man Post Office issued a set of 10 stamps titled "The Calf of Man: Celebrating the 70th Anniversary of the Manx National Trust, now Part of Manx National Heritage". These stamps depict the beauty and ecology of the small island of the Calf of Man. One of these stamps has a view of the Calf of Man Lighthouse and surrounding beach. These stamps are available in several formats (see the first link above).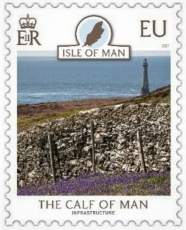 Calf of Man L/H | 12 Apr 2021
Thanks to Michael E for bringing this new issue to our attention.
See more lighthouse stamps from the Isle of Man here.