On 21 July 2020 Guernsey Post issued a set of six stamps entitled "SEPAC – Artwork Collection". The 95p stamp features a fishing boat with a stylized lighthouse and buoy in the upper right corner.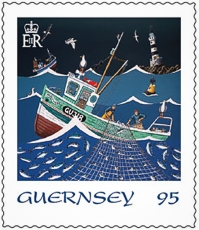 Stylized L/H and buoy | 21 Jul 2020
Again, our chief researcher, Jaap, brought this issue to our attention. Thanks, Jaap!
To see more lighthouse stamps from Guernsey, click here