On 6 August 2021 the United States Postal Service released the last set of lighthouse stamps illustrated by artist Howard Koslow. This is the seventh set of lighthouse stamps in this series and since Mr. Koslow's death in 2016 will be the last of this format. Five lighthouses in New York, New Jersey, Pennsylvania, Delaware and Maryland are featured in this new set.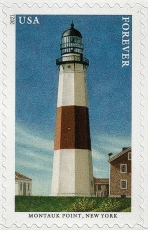 Montauk Point L/H | 6 Aug 2021
Montauk Point Lighthouse, J0690, was established in 1797 and stands at the eastern most point of Long Island, east of New York City.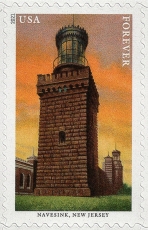 Navesink (North and South Towers) L/H | 6 August 2021
The Navesink twin lights are shown on this stamp. They were established in 1862 and only the North Tower, J1032, also known as Highlands Lighthouse is still active. These lighthouses stand on the New Jersey Shore south of New York Harbor.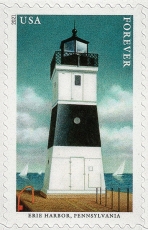 Erie Harbor L/H | 6 Aug 2021
Erie Harbor Lighthouse has stood on the end of the north pierhead at the entrance to Erie Harbor on Lake Erie since 1867.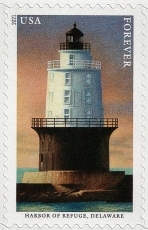 Harbor of Refuge L/H | 6 Aug 2021
Harbor of Refuge Lighthouse, J1280, is a more recent lighthouse, having been built in 1926. It stands on the south end of a long offshore breakwater that protects the harbor of Lewes, Delaware at the entrance to Delaware Bay.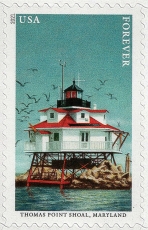 Thomas Point Shoal L/H | 6 Aug 2021
Thomas Point Shoal Lighthouse, J2204, has been an active lighthouse in Chesapeake Bay since 1875. This is one of the few screwpile lighthouses remaining in the United States and is located near Annapolis, Maryland.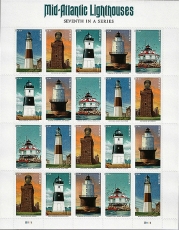 Mid-Atlantic Lighthouse | 6 Aug 2021
These stamps are only available in sheets of 20 though first day covers are also available from the Postal Service.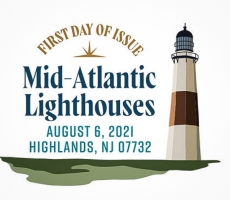 Montauk Point L/H | 6 Aug 2021 | Digital color pictorial postmark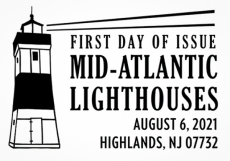 Erie Harbor L/H | 6 Aug 2021 | Black and white pictorial postmark
See more lighthouse stamps from the United States of America here