On 14 May 2020 Hellas Post issued a stamp and related material celebrating 100 years since the integration of Alexandroupoli with Greece. This issue is referred to as a "Collectible product in a limited edition". Alexandroupoli Lighthouse is shown on the label attached to the stamp. This lighthouse is located on the Aegean Sea in the northeastern part of Greece near the border with Turkey.
Thanks Jaap, for bringing this issue to our attention.
Click here to see more lighthouse stamps from Greece.

Alexandroupoli L/H | 14 May 2020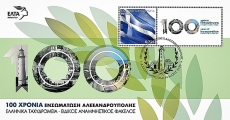 Alexandroupoli L/H | 14 May 2020 | FDC