On 14 January 2021 the UK's Royal Mail issued a set of 10 stamps featuring that nation's national parks. The stamp featuring South Downs National Park shows (if you look very closely) Belle Tout L/H. The lighthouse can be seen at the upper right corner of the stamp just to the right of the base of the letter "T" below the queen's profile. The light was built in 1832 and deactivated in 1899. It has been subject to cliff erosion and has been moved a short distance inland from it's original location. It is privately owned and is used as a bed and breakfast. In this image from Google Maps taken from Belle Tout L/H we can see Beachy Head L/H not far away.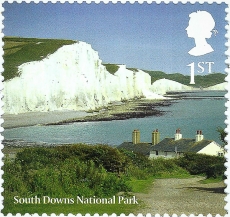 Belle Tout L/H | 14 Jan 2021
Thanks to Michael in Scotland for the information and image scan for this new lighthouse stamp.
See more lighthouse stamps from Great Britain here.