On 1 Feb 2016 Netherlands Post issued 3 sheetlets in the Beautiful Netherlands series featuring the fishing villages of Zoutkamp, Volendam and Urk. An additional 2 sheets will be issued later this year for the villages of Arnemuiden and Scheveningen.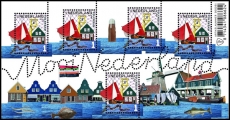 Volendam Lt. (cupola on building at lower right of sheet) | Scott ?, Mi ?, SG ?, WADP ? | 1 Feb 2016
Volendam Light is in the small red and white cupola atop the building at the lower right part of the sheet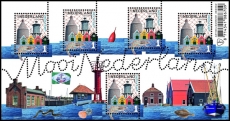 Red buoy, channel marker and old lightouse replica | Scott ?, Mi ?, SG ?, WADP ? | 1 Feb 2016
This sheet features Zoutkamp. There are two red buoys on the sheet and a replica of an old lighthouse on the stamp.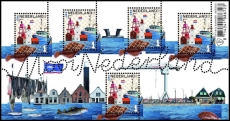 Urk Lighthouse and red channel buoy | Scott ?, Mi, SG ?, WADP ? | 1 Feb 2016
Urk Lighthouse and a red channel buoy are visible on the stamp.