I don't ordinarily spend much time with Cinderella issues but Mike DePaz convinced me that this one may be different. In 2020 Guinea issued almost 100 stamps per month, most if not all were not sold in that country but only retailed to collectors. In 2021 Guinea is ahead of 2020's production level of stamps.
This set of three stamps features Île de Tamara Lighthouse which is actually located in Guinea which supports Mike's argument. While they don't have major catalog numbers, they are interesting. This image shows the mini-sheet of 3 stamps and each of them is available in a sheet of 8 with a label in the center as illustrated here.
Île de Tamara is a small island located at the outer approach to the port of Conakry.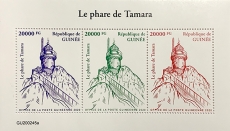 Île Tamara L/H | 26 Oct 2020