On 13 Sep 2021 Vietnam issued a set of four stamps to honor historical figures. This stamp shows an island, probably in the South China Sea. It may not be a true representation of an actual island and the lighthouse shown is unidentified. If you have any ideas, please post a comment below.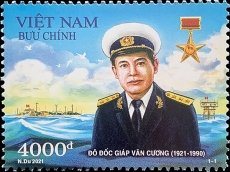 Unknown L/H | 13 Sep 2021
Thanks to Jaap for finding this stamp.
See more lighthouse stamps from Vietnam here