Here is a stamp that has been hiding for more than five years until Mike DePaz called it to our attention! On 8 Nov 2017, New Caledonia issued this tamp to celebrate the 70th anniversary of the Cage Philatelic Club. It features the famous Amédée Lighthouse which is located on a small island off the south coast of New Caledonia.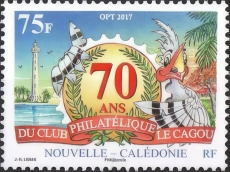 Amédée L/H | 8 Nov 2017 | K4802.1
See more lighthouse stamps from New Caledonia here.