On 1 Feb 2022 Aland issued a set of four frama labels (ATM stamps). One of these shows a sketch of Lågskär Lighthouse. This lighthouse is located on the island of the same name on the southern approach to Mariehamn.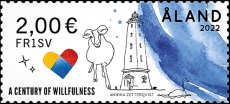 Lågskär L/H | 1 Feb 2022 | ATM Label
Thanks to Michael Elllison for reminding me to post this issue.
See more lighthouse stamps from Aland here